Jun Shi, MD, MSc, FCP
Director of CNS, Clinical Pharmacology and Drug Dynamics, Clinical Pharmacology and Biometrics, Forest Research Institute, Forest Laboratories, Inc
Jun Shi is a Clinical Pharmacologist who has more than 15 year experience in implementing quantitative methodologies in new drug development. He is currently a Fellow of American College of Clinical Pharmacology and full member of American Society of Clinical Pharmacology and Therapeutics.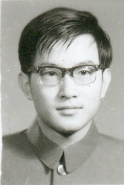 1983 MD, School of Medicine
1986 MSc, Clinical Pharmacology
Shanghai Medical University
Born in 1960 in Nanjing, Jiangsu Province, People's Republic of China, Jun Shi attended elementary school, middle school and high school in Hefei, Anhui Province. In 1978, Jun entered Shanghai First Medical College, School of Medicine. In 1983, Jun Shi was enrolled in Graduate School, Shanghai Medical University and studied Clinical Pharmacology under professor, Dr. Wen-de Jiang. His thesis work "Relatinoship between Pharmacokinetics and Pharmacodynamics of Amiodarone" won First Prize in 3rd National Meeting of Chinese Society of Cardiovascular Pharmacology. During 1986-88, Jun was a faulty member of Department of Pharmacology, Institute of Clinical Pharmacology, Shanghai Medical University.
In late 1988, Jun Shi entered Clinical Pharmacology Fellowship of University of California, San Francisco under the tutorship of Professor Neal Benowitz and Professor Lewis Sheiner. During his ~3 years post doctoral fellowship at UCSF, Jun Shi attended Basic Pharmacokinetics and Advanced Pharmacokinetics PhD courses, conducted human pharmacology research of caffeine, performed bioanalytical analyses of plasma and urine samples using HPLC and GC-MS, and analyzed PK/PD data using NONMEM.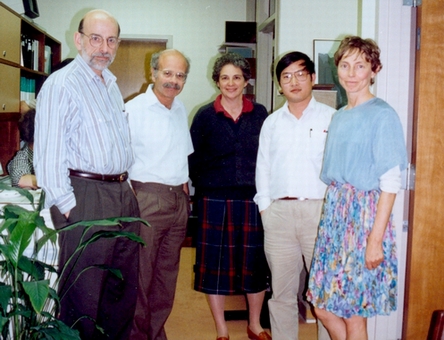 1990 UCSF, Rm C255 with NONMEM Project group, Prof. Sheiner and Prof. Beal
In 1991, Jun Shi joined the Department of Clinical Pharmacology, Berlex Laboratories, Inc as a Senior Clinical Research Scientist. In 2000, Jun Shi joined Global Biopharmaceutics and Clinical Pharmacology, Drug Metabolism and Pharmacokinetics, Aventis Pharmaceuticals, first as a Senior Principal Scientist, and then promoted to be Distinguished Scientist in 2003. In 2004, Jun Shi became Director, Clinical Pharmacology and Drug Dynamics Department, Forest Laboratories, Inc.
Jun was married on Dec, 1986, to Qi Zhang. They have two children. Jun is an avid reader, and enjoys writing and photography.
Last updated February 2006